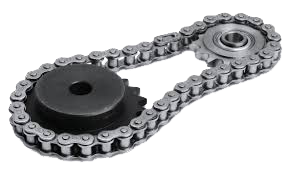 Industrial chains are mechanical devices used in a wide range of industrial applications for transmitting power, conveying materials, or supporting loads. These chains are designed to withstand heavy loads, high speeds, and harsh operating conditions.
When choosing industrial chains, factors like load capacity, operating speed, environmental conditions, lubrication requirements, and chain compatibility with sprockets should be considered.
Materials and finishes
Steel
Cast Iron
Stainless Steel
Nickel
Zinc
Titanium
Plastic (including acetal).
Standards
ANSI/ASME B29:1
ISO 606
DIN 8187/DIN 8188
BS ISO 13934-2